PALLET RACK SYSTEM INSPECTION SERVICE
What You Can Expect From A Pallet Rack Inspection
Identify & Reduce Risk To Prevent Loss
Use our Pallet Rack Inspection DIY Form to complete your own inspection. This simple form will allow you to get started today. You can use this form to perform a visual inspection. By noting the locations where rack components are missing or damaged your maintenance department or racking professional can be notified that a potential problem has been identified and needs to be addressed. 
This form can also be used between annual inspections performed by an experienced professional. It allows you to proactively identify and repair obvious hazards prior to your next scheduled rack inspection.
Fill out the information below to receive your complimentary form.
As part of our complete inspection process, we will examine the condition of each pallet rack component, including the following items:
Anchors – To ensure they are not loose or broken off
Baseplates – To ensure they are correctly attached to the column
Uprights, beams, and braces of each bay – Checking for bent, missing, or damaged components
Safety Clips – To ensure they are in place and properly engaged
Safety Bolts – To ensure the beams are locked in place, so they cannot be dislodged
Safety Guards – To ensure they are undamaged and properly anchored
Wiredeck or Pallet Supports – To ensure they are not fatiguing
Pallets, Skids, or Containers on the racks – To check for point loads or unsafe conditions, or incorrect loading
After we complete the inspection, we will provide you with a detailed report of our findings. In this report, we will note which components are damaged and which pallets are incorrectly loaded. After the inspection, we can provide you with a recommendation for replacement or repair of the damaged component or an appropriate corrective measure.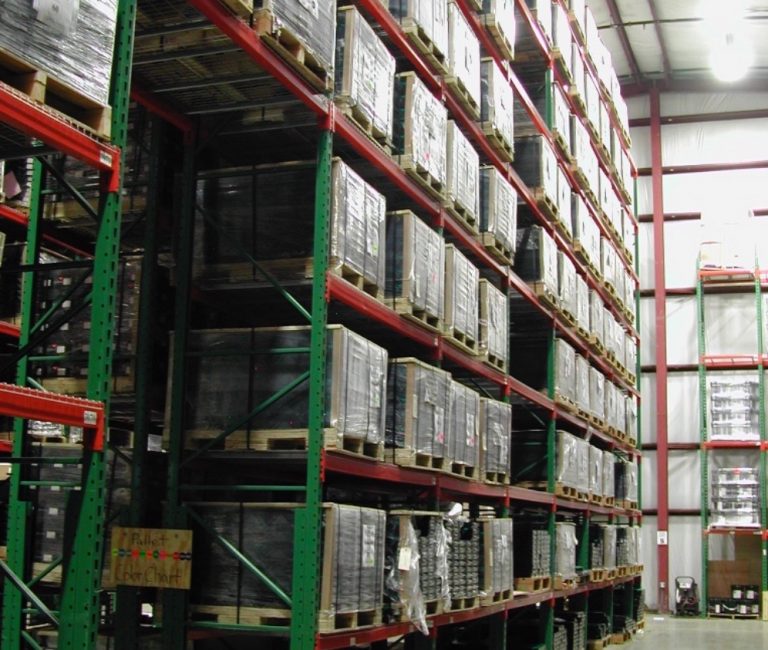 Why Do You Need To Perform Rack Inspections?
Performing Inspections Is Critical To Creating A Safe & Profitable Work Environment
When racking is not properly maintained, you risk injuring your employees, damaging costly materials, and increasing your business's liability significantly. Structural deficiencies are often caused by normal wear and tear. If an accident occurs and it is found to be due to a structural deficiency, then your company could be held liable for neglecting to eliminate an unsafe condition. Periodic pallet rack inspections should be a top priority, as they allow you to become aware of unsafe conditions in your facility that you are then able to remedy. Periodic inspections of your storage system is the only way to address these issues and provide pallet racks that are safe for your employees to load and work around.
From missing safety clips to bent uprights, various types of damage can be caused as forklifts load pallets into the rack and navigate through the system. Damage can also occur due to improperly loaded pallets or changes in your material loads that are different now than when your racking system was laid out. Regardless of how the damage is caused, it can pose a major threat to your employees, resulting in an accident or a major event, such as a collapse of a rack.
When Should You Inspect Your Rack?
It is crucial to have your pallet rack system inspected regularly for damage to see if safety devices are present and properly engaged, and to look for pallets that are being incorrectly placed on the racks and causing point loads. These safety issues can easily go unnoticed by the untrained eye or may be viewed as minor and left unreported and unresolved. To ensure the integrity of your system and reduce the likelihood of an accident, the pallet rack should always be inspected by an experienced pallet rack professional.
Experts recommend inspecting your rack:
Using a Third-Party Inspection Service
As Part Of Company-Wide Safety Assessments
On A Quarterly, Annual, Or Monthly Basis
Ahead Of OSHA Certifications
INTERESTED IN PERFORMING YOUR OWN INSPECTION?
ENSURE WORKPLACE SAFETY
KEEP TRACK OF REPAIRS
Keep up to date in between your Third-Party Rack Inspections by conducting your own!
Use our Pallet Rack Inspections DIY Form to guide you through your own inspection. This easy to use form will allow you to get started today. Perfect for use between annual inspections performed by an experienced professional. This form allows you to record and repair the obvious hazards in your pallet racks.
Fill out your information below to receive your complimentary guide.
Schedule a professional assessment today!
FRequently Asked Questions
No, racking inspections are not legally required. However, OSHA requires that employers provide a workplace that is free from safety hazards. By completing a rack inspection and remedying the safety issues found, you are providing a safe work environment for your employees and meeting the OSHA requirement to maintain a workplace free from hazards.
Experience The Cranston Advantage
Performing Inspections Is Critical To Creating A Safe & Profitable Work Environment