Thank You For Contacting Us about a professional inspection!
Our team will reach out to you shortly. In the meantime, here is a little more information about our professional pallet rack inspections, what you can expect, and what you will receive. If you have any questions, please don't hesitate to call us at 412-424-0360 or email sales@cmhec.com.
We perform a thorough Rack Inspection that enables us to generate a detailed Rack Inspection Report and Inspection Documentation Photos. The report includes the locations of all deficiencies, typical pictures of the deficiency, rating of the seriousness of the deficiency, and a recommended course of action. The Rack Inspection Report will provide management with the ability to clearly access the condition of the racks, decide what deficiencies should be addressed, and then inspect the locations to confirm the deficiencies were remedied. The Report is set up in a highly organized user-friendly format providing the individuals tasked with remedying the deficiencies an easy-to-follow document to make the repairs.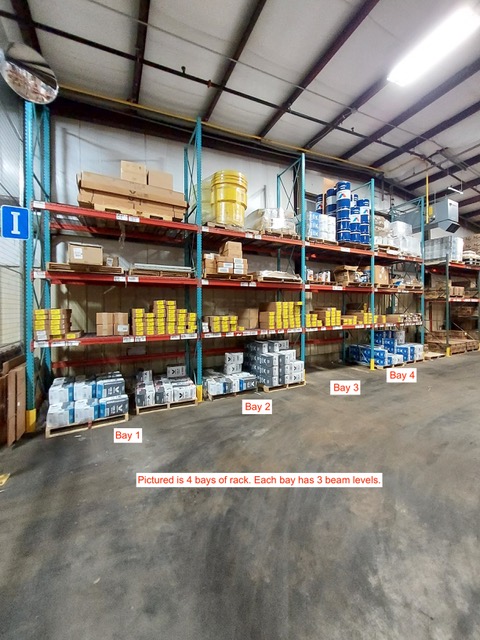 Our Rack Inspection Survey allows you to quantify the racks that are to be inspected so we can provide you with an accurate proposal for the inspection. For you to provide an accurate count of the number of bays of rack in your facility, at right is a picture showing how to count the number of bays of rack. This will enable you to correctly list the number of bays of rack to be inspected on the Rack Inspection Survey. Also, if you have a couple of pictures of the racks that you can send that will be helpful as well.
The reports clearly layout the rack bays where the issues were found and provides you with photos to facilitate repairing, documenting, and training. If there is additional information that you would like us to provide, please note that on the Rack Inspection Form.
Committed to improving warehouse safety,
Cranston Material Handling Equipment Corp.
5458 Steubenville Pike
McKees Rocks, PA 15136